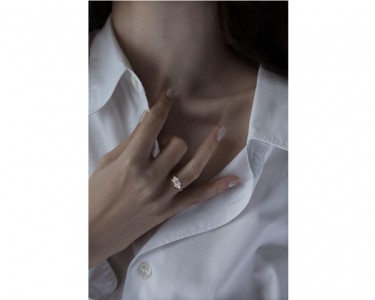 Back to the news list
Zoom
5 TIPS TO MASTER YOUR BESPOKE DIAMOND RING
Making a ring set with a diamond is an adventure which can and should be a pleasure, and at the end a satisfaction both for the one who offers and the one who receives when it comes to a gift.
This article gives you few tips to consider in order to make this moment as smooth as possible with an optimum result. There are thousands of possible combinations according to choices of diamond, characteristics, ring design, material and fabrication.
1/ AT START, WHAT SHOULD YOU DO?
LAB GROWN OR NATURAL DIAMOND
Starting with the diamond (or other precious stone), ask yourself this first question: do I wish for a lab grown diamond or a natural diamond?
Natural diamond is the traditional diamond coming from mining or sea floor. It requires an extraction phase, with diverse damages levels on biodiversity and carbon impact. Its impact may also concern human conflicts locally. This diamond is nevertheless praised by many thanks to its emotional connection coming from the millions / billions years that have been necessary to raise to the earth surface.
Lab grown diamond is a genuine alternative, as it is officially now a 'diamond'. All respected independent international laboratories such as GIA, IGI, HRD deliver strictly the same evaluation based on the same criteria, using the same tools to judge a lab grown diamond as they do for the mining diamond.
The plus is that it has 0 impact on biodiversity and creates 0 impact on human conflicts; this generates, especially among the new generation, a new emotional value spectrum. I create a jewel which will last forever and on top, I have no or limited impact on the planet. This lab grown diamond is nevertheless energy consuming during crystallization in laboratory; this waste is more and more controlled thanks to new methods such as CVD (plasma technic based) or as soon as green energy or decarbonized energy is used. French maker DIAM CONCEPT uses nuclear energy (decarbonized) and CVD process for its lab grown diamond for instance.
Finally, because of the limited number of intermediaries, lab grown diamond is more affordable than mining diamond (30 to 50% less): this allows to offer exceptional quality while remaining accessible.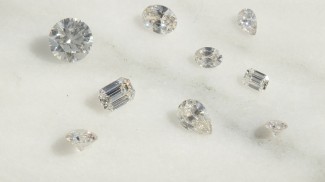 2/ TURN YOURSELF INTO A DESIGNER OR A TREND DIGGER
If you have time, ideally between 15 days and a month, surf on jewelry maisons sites, look at jewel pics, look around, think about what you really like. Use screen shots or cut out from mags!
Look at the shape of the stones, round, cushion, emerald, pear (…), dozens of those exist, save the ones you like.
Similarly for the shape of the ring itself, ask yourself whether you prefer round, half round, square shapes, thick or thin. The setting (part that nests your diamond) is available in different ways: for example, do you want the stone to be high above, as nude as possible, or embedded?
Yellow gold, white gold, red gold, platinum, those materials can be described once you meet the pro. At this stage, determine what material color you want: grey, yellow (classic gold color), red (yellow with a subtle culver touch).
Some maisons propose recycled materials, don't hesitate! Characteristics are strictly the same, those precious materials recycle forever and limit impact on the planet. Price is the same, it depends on the material price of the day on the stock market); price set at estimate stage won't move in a serious maison.
The sooner you have a budget in your mind, or at least a range, the quicker and more efficient the experience is.
If you look for exquisite quality of stone and lab grown sounds tempting, go for it, you won't be disappointed.
You may for sure try a 100% digital experience.
Our recommendation is to be accompanied by a pro though.
We are talking about an expensive jewel with an emotional value, which is supposed to last forever, missing something, or taking a risk are not options.
Exchanging is fundamental and will allow to maximize your budget while enjoying an enlighten experience without necessarily spend more.
Once again, your choice between lab grown and natural diamond is a first filter. Some maisons are specialized since their start in lab grown diamonds and will be able to explain further and especially spotting the stone that matches and sometimes exceed your expectations.
A maison knows how to guide you in your thinking when identifying the stone but also at design stage and may include a designer in the game. They will also help you finding the right ring size if it's a surprise. Finally, if there actually is a size or engraving issue, a maison will rectify usually at no cost.
5/ MANUFACTURING, A KEY STEP LEADING TO SUCCESS FOR A DIAMOND RING
It is acceptable to separate the stone buying and the fabrication of the ring with two different suppliers.
In any case, it is important to really consider the manufacturing phase. A beautiful stone, if poorly set, will lose its spike and may be at risk.
Ask for a drawing before going into production. Some maisons propose computer assisted drawings allowing to precisely project yourself into the jewel and make the little adjustments you want.
Ideally, the jewel is set in a respected country for jewel manufacturing, like France or Italy. Few people know it, but France, along with fashion, is internationally recognized as one of the very best for this ancestral know-how.
We wish you the very best in your ring project.
This article is proposed by maison DFLY in Paris, specialized in lab grown diamond (stones to buy, bespoke jewels and collection), don't hesitate to visit us in our showroom (12 rue de la Chaussée d'Antin, 75009 Paris, take your appointment here for a live visit or a viso conference), or call us at +33 (0)9 75 75 20 83, we'll be happy to assist you.
Photo credits cover worn ring : design Philippe AIRAUD (designer for DFLY), photographer Sylvie BENOIT