Back to the news list
Collaborations
'DESIGNER DAY'
at L'HOTEL DU RITZ
On March 1st 2022, second day of the Paris Fashion Week, DFLY and its agency DRESSCODE welcome 230 journalists, influencers, and VIP partners to discover the innovations
On March 1st 2022, second day of the Paris Fashion Week, DFLY and its agency DRESSCODE welcome 230 journalists, e-journalists, influencers, and VIP partners to discover the collection and the innovations.
Beyond the Maison DFLY, a selection of premium designers were also present in the Salon d'Été of the Ritz Hotel.
The 'Ritz Designer Day' has become an un-avoidable moment of the Fashion Week in Paris where all editors-in-chief, journalists, stylists and influencers, from France and abroad are selectively invited.
Facing the Jardin d'Été of the Ritz Hotel, DFLY has presented its new Men collection in the chic and friendly nest.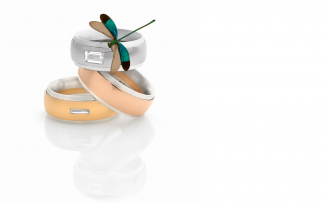 MEN COLLECTION
Philippe AIRAUD's signature, designer for DFLY, is expressed through the fluid lines of the rings.The satin sliver body is covered with a large gold ribbon.
Three variations to perfectly answer every Man's desire : a unified band called SATURN and two bands each set with a lab grown diamond of a specific weight.
To serve the modern design, the stone is a Baguette shape like a light beam on the band, it is the NEON version, or the stone is a rectangle shape like a swimming pool, it is the POOL version. The three models, all manufactured in France, are proposed in satin silver and the recycled gold of your choice : yellow gold, white gold or red gold.
Feedbacks have been very positive, journalists really enjoyed DFLY stand. They were particularly happy to discover the new MEN collection. Pointed out were the design of the 3 Men Bands, the different sizes of the lab grown diamonds, the comfort and attention to details in the materials.